Ask the Expert: Atlantic Appliance Trends and Advice
The right appliances make a kitchen.
And Atlantic Appliance in Wilmington is our go-to source for expert advice and the best appliances.

We sat down with Kayleigh at Atlantic Appliance to get answers to some commonly asked questions when selecting an appliance for indoor kitchens, outdoor kitchens, or a butler's pantry.
Q: How do you suggest people think about budgeting for their kitchen appliances?
I always like to tell my clients it is best to first start with inspiration photos of kitchens they find on sites like Pinterest or Houzz. That will help better determine whether they are seeking a high-end chefs kitchen (outfitted in brands such as Sub Zero, Wolf, Thermador, Miele, etc.) a gourmet kitchen (outfitted in brands such as Kitchen Aid, GE Profile, Bosch, Cafe Appliances, etc.) or an efficient free-standing design (outfitted in brands such as GE, Whirlpool, Samsung, and LG).
From there, I suggest making a list of what appliances you will need and the features of each product that are most important. For example, if you want a flush installed fridge, you would spend anywhere between $9,000- $16,000 vs. a freestanding fridge ranging in price between $1,000- $4,500.
Each of the three kitchen designs I mentioned can range in cost depending on the brand, how many appliances you are needing, and the quality the client is looking for.
Generally, you could expect spending $20,000- $70,000 for a high-end chefs kitchen, $7,000- $20,000 for a gourmet kitchen and $1,500- $5,000 for a freestanding kitchen.
Seeking guidance from our team at Atlantic Appliance and Hardware is most helpful because we can bring all of your needs and design goals together to get you within the budget!
Q: Is it imperative that all the appliances are from the same brand or can you mix and match between brands, choosing your favorite pieces from each?
This really comes down to personal preference. Oftentimes clients want to stay within the same brand family so all of the handles match in their kitchen. Additionally, certain brands provide incentives/ rebates when you package a kitchen suite within their product line up.
If it was my personal kitchen, I would likely choose the appliance models/ brands that offered the features and reliability I was looking for while still keeping the look as cohesive as possible.
Each brand has a unique handle/design, so as long as the overall look of the products blended together to look intentional you would be safe mixing brands.
Q: Personal preference: side-by-side fridge and freezer or top and bottom?
I much prefer the design of french doors with a bottom freezer (this matches consumers' trends as well).
Most households (including mine) are buying more fresh food so having the fridge higher up makes the most sense considering we are in going in and out of the fridge more often than the freezer.
In my opinion, it also lends to more usable storage when refrigerating wider items like serving platters, cakes, etc.
When looking for a refrigerator, I would encourage buyers to consider switching from the external ice and water dispenser to internal water and ice. We find there are fewer service issues with the internal design and it looks a lot cleaner when you remove the dispenser from the outside of the fridge.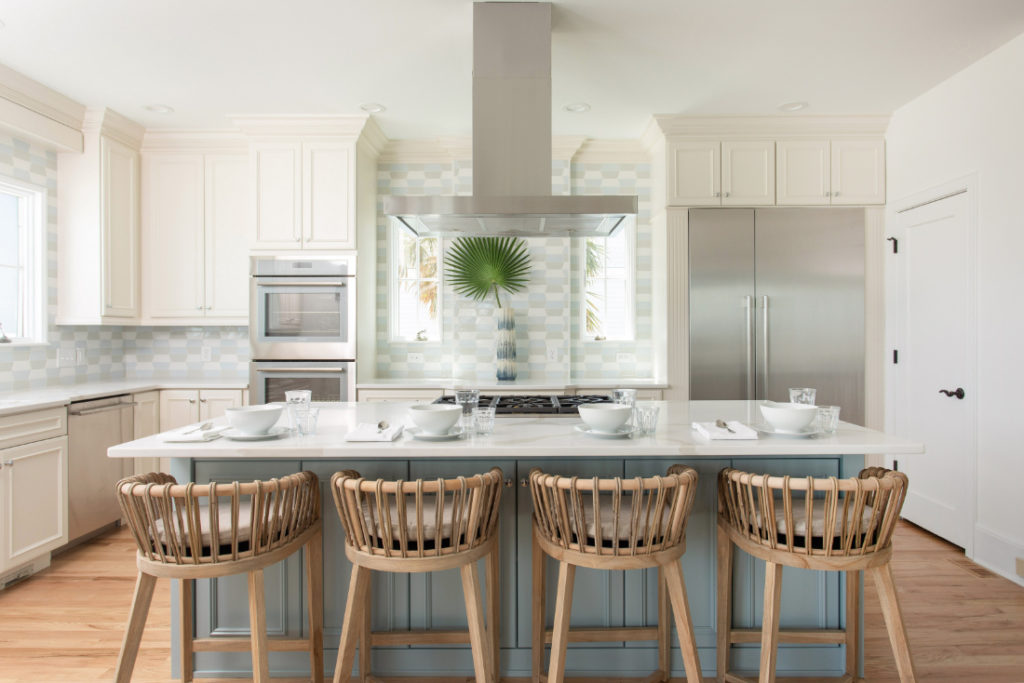 Q: If you have the space, what would be one "extra" thing you would include in your kitchen? Why?
This is a toss-up between a beverage cooler and a warming drawer. I entertain a lot and find that both would be helpful to have when hosting a group but they would also come in handy for everyday use.
A beverage center provides refrigerated storage to cool wine, drinks, mixers, garnishes, and bottled water. Having this additional cooler would free up a lot of space in the fridge and also provide a more convenient space for my guests to access the drinks of their choice.
A warming drawer would be fantastic to have when cooking multiple dishes, hosting for holidays, and when we host catered meals. In addition to those special occasions, it is also great for everyday use.
Balancing work, exercise classes, and other commitments can make it challenging to always have time to cook and eat together as a family. I would likely use this daily to keep food warm (without overcooking it) on busy nights where our household eats at different times.
Warming drawers can also be used to warm towels (great for bathroom and pool installations) and for warming plates ahead of serving.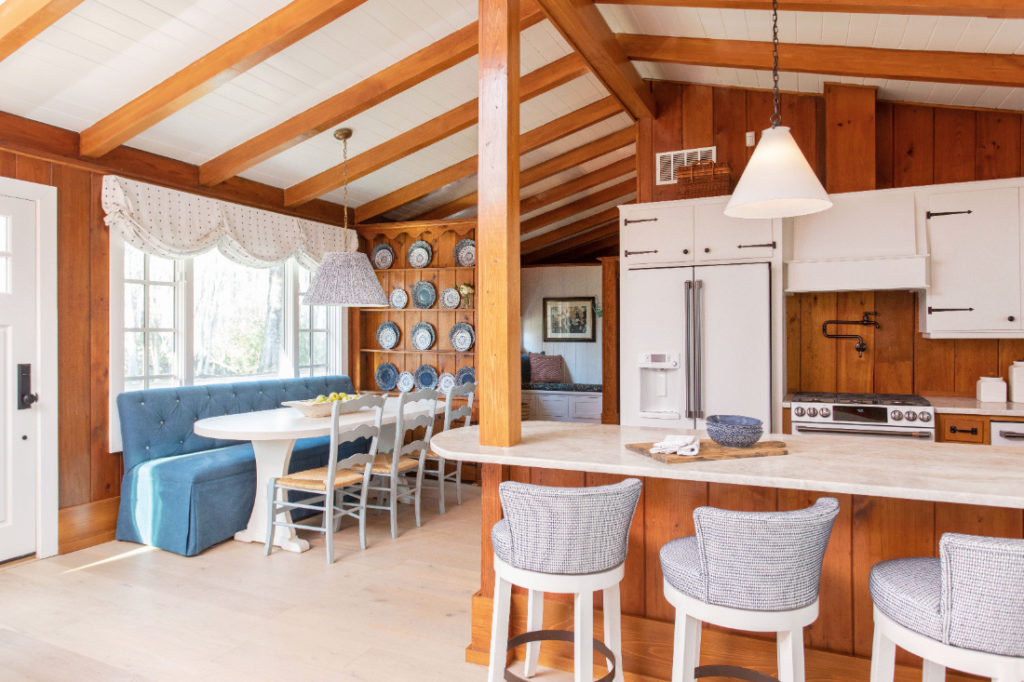 Q: Are over-the-range microwaves dated now? If so, where is the best place to place them?
Over-the-range microwaves have come a long way, with so many brands offering very modern and sleek designs.
I wouldn't say that they are dated or out of style but it has become the less desirable location for microwaves to install in a kitchen. Keep in mind some kitchens are limited on space or budget so installing an over-the-range microwave might be the best space and cost solution.
However, if you have space and room in the budget I suggest microwave drawers (offered in both 24″ and 30″ widths) that install right below the countertop.
When taking hot food out, it is much safer to lift it from below and onto a countertop than above where you can risk spills and possible burns.
The under-counter installation also lends to a very clean kitchen layout and easy replacement down the road.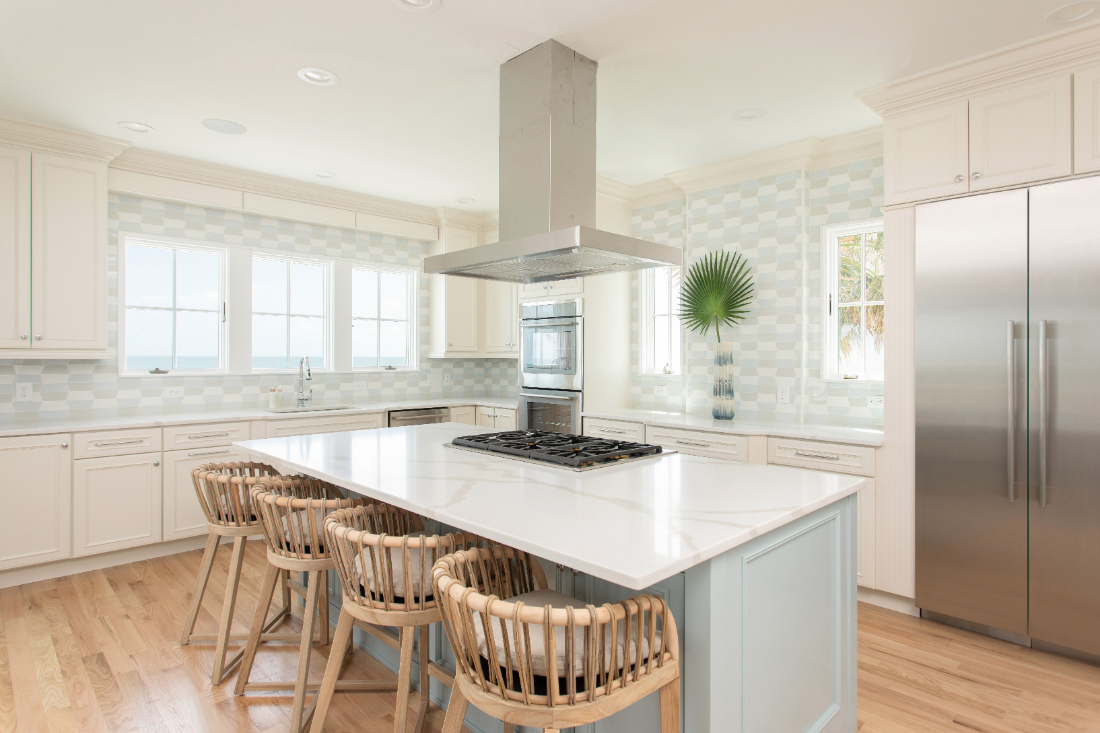 Q: Do you prefer gas or electric stovetops? What are some pros and cons?
My preference would be gas over true radiant electric because it heats up much faster and it is more responsive when reducing dishes from a boil to a simmer.
Having a gas range or cooktop can also be a lifesaver when the power goes out from hurricanes or other storms that frequent our area.
However, induction is a fairly new cooking technology that uses magnetic connections created from the pot/pan and the cooktop to create friction.
Given the way the heat is created, you could safely cover the cooking surface with something like a paper towel to reduce the splatter and clean up. I know this sounds crazy and rather nerve-racking. but it really works and it helps keep the cooktop looking brand new!
In addition to the time-saving cleaning benefits, it also cooks faster than gas and is even more responsive when shifting from a boil to a simmer. I highly recommend all my clients consider it when they are building a new house, renovating, or just replacing an existing cooktop.
Ready to renovate your kitchen and upgrade your appliances?
Contact us to get started!