How to Style a Bookshelf Like a Pro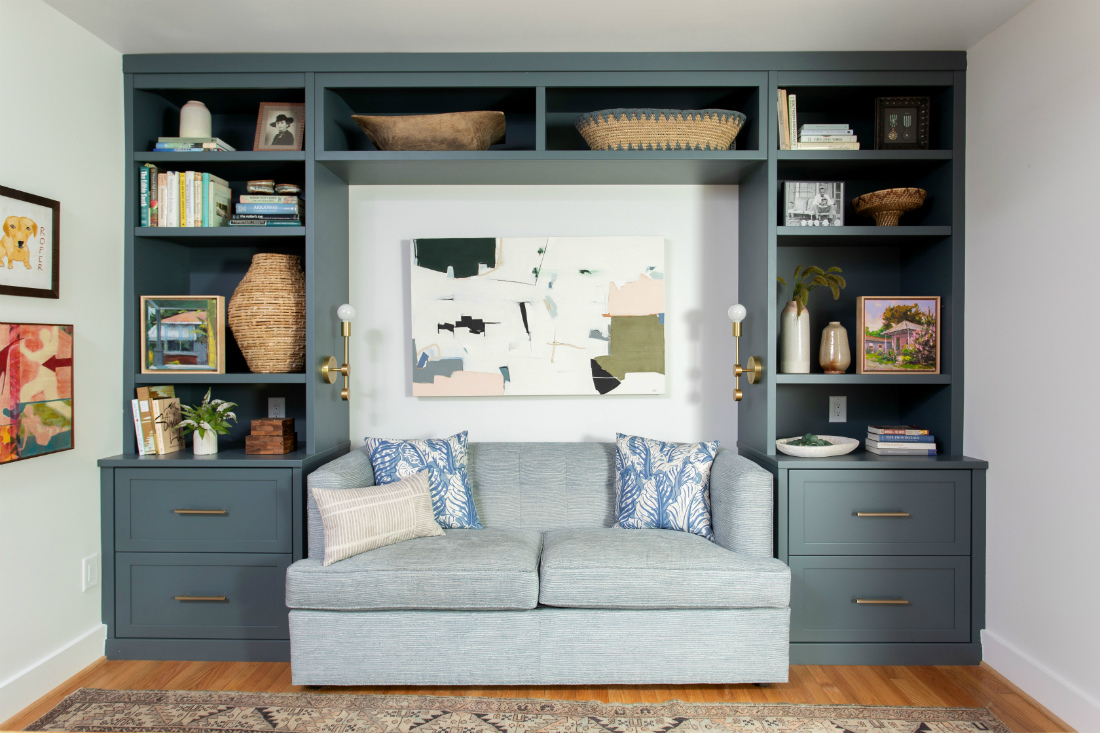 We may specialize in big-picture renovation and new builds, but we know that a home is not truly done until it is styled.
And, honestly, nothing is more fun than styling a bookshelf.
It's about color, shapes, and texture but, as always, the beauty is also in the functional details. When we style a bookshelf, we consider it all.
Wondering how we do it? Let's break it down!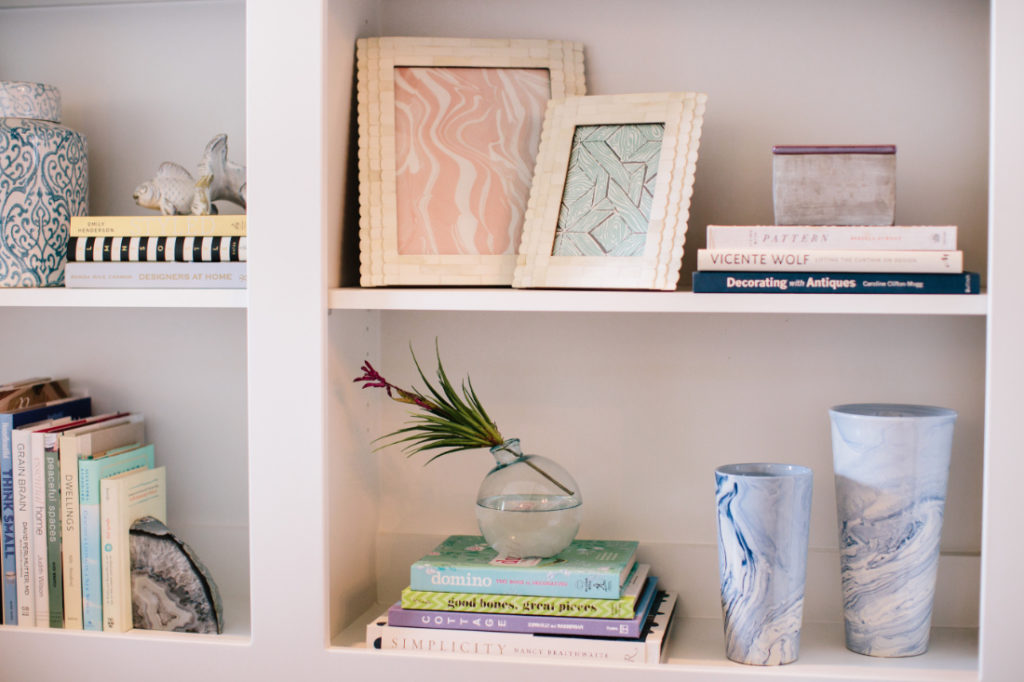 Books
Horizontal or Vertical?
Bookshelves are meant for books! But aesthetically it's too much to just have rows of books stacked alongside each other, cover to cover. To break up the books, stack groupings of 3-5 vertically and horizontally.
When going vertical, use bookends or objects to hold them together. When going horizontal, top the stack with a smaller object on top.
Greenery
Adding life via The Coastal Succulent (real or faux!)…
Inserting some greenery into a bookshelf is always a good idea! It brings a little life into the room. We pair up with The Coastal Succulent to help us fill the pots we want on the shelves.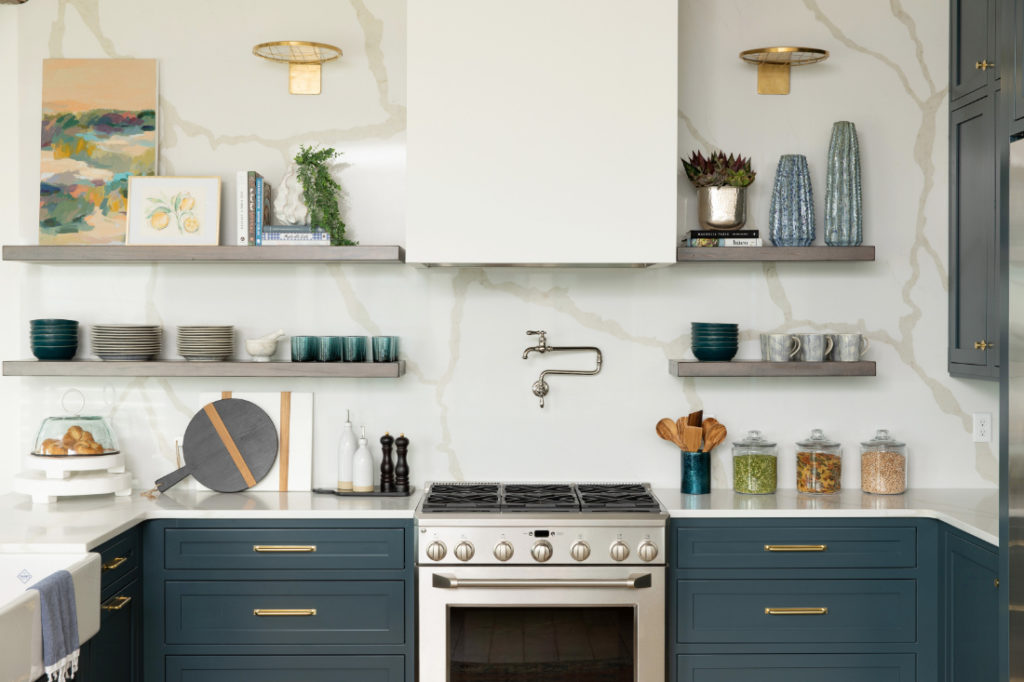 Sometimes the shelves get enough light to hold a real plant. But we often opt for a good faux plant so that it always looks as good as it does on the first day!
It's a stress-free option: Even if your shelves don't get the sunlight needed, the plant doesn't die.
Artwork
Think small.
Little pieces of original artwork are great to collect and, due to size, are usually cost-friendly.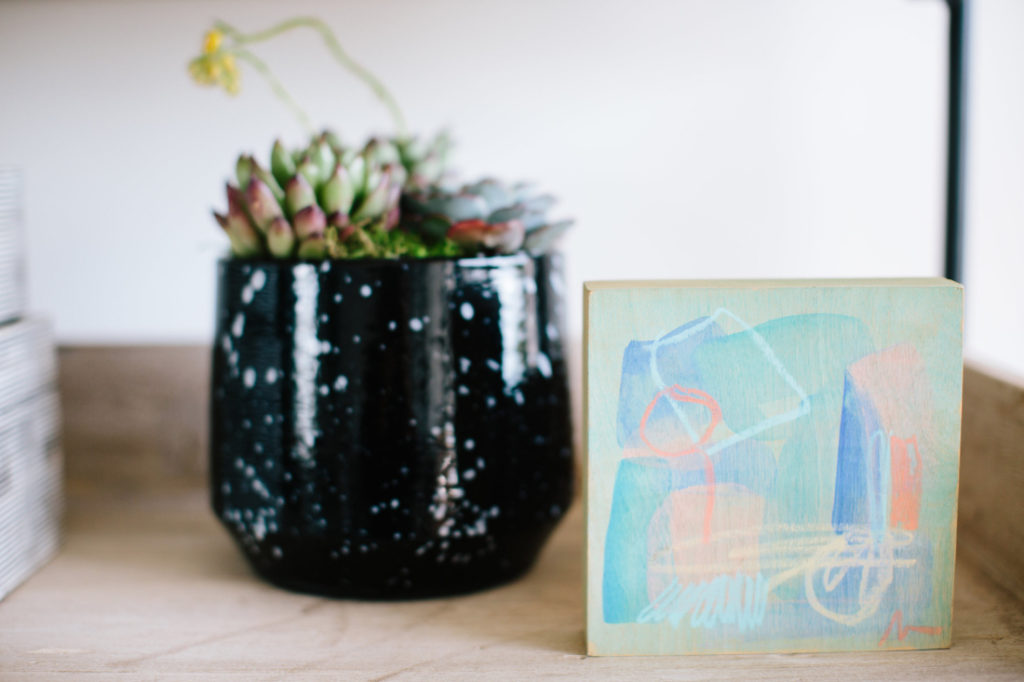 Original artwork pieces can stand alone on any shelf and bring some color to the space.
If you have a piece of artwork on paper you can have it framed and add a stand. If it's already on canvas, it can stand alone or atop a set of books stacked horizontally.
Vases
No flowers required.
If you're like us, your spouse has probably said something along the lines of "How and why do we have so many vases!?" Here's your answer!
Vases don't just have to be for flowers on the kitchen island. Group smaller ones together or let larger ones stand alone on your shelves.
No need to have these pretty pieces hiding in a cabinet only to come out when your garden has bloomed. Show those pieces year-round!
Texture
Bring on the wood and natural fibers.
Adding texture in the form of wood and natural fibers is a great way to warm up your bookshelves.
Often times, built-in shelves are white. White is a great starting point but can still feel cold even after filling with beautiful pieces. Adding texture will add depth and warmth to these spaces!
Are you planning a renovation or new build?
We'll handle all the tricky aspects of the design—from planning room layouts down to that last little succulent on the shelf. Give us a call to discuss your project.