Before + After: #projectcheekwood Kitchen + Dining Area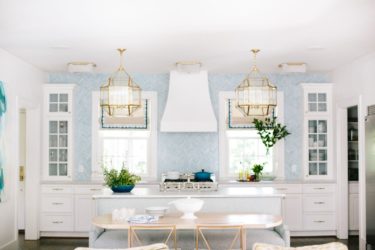 Who's excited for the second installment of Before + After: #projectcheekwood? As Lindsey's home will prove, the way that people used to utilize their kitchen has completely evolved over the past century. The kitchen in her house was dark, tiny and isolated from the rest of the living space. Lindsey worked her magic and now the kitchen is bright, happy and located in the heart of the home. Today on the blog, we're going to focus on the transformation of the kitchen and dining area at #projectcheekwood. Remember to pick up a current issue (July 2018) of Southern Living magazine to see Lindsey's home in its entirety.
Gathered: When y'all bought the house, it looks like the kitchen looked like it hadn't been touched in a long time. Talk a little about what kind of shape it was in and how the previous owners used the space.
LC: The kitchen was a disaster! It was used strictly for utilitarian purposes – cooking meals and cleaning up, never for entertaining. It was closed off from the rest of the home. This is pretty typical of homes built in this time period. Back then, the kitchen simply wasn't the heart of the home like it is today. The kitchen had linoleum flooring, dropped ceilings and was just really dark and small. Funny little story: the day we officially closed on the house we walked through the kitchen and we found a mug that read "Budgets are for Wimps." It was a pretty good little "wink" from the house – little did we know how much truth that mug held for us. My husband Grayson still drinks coffee from it almost every morning!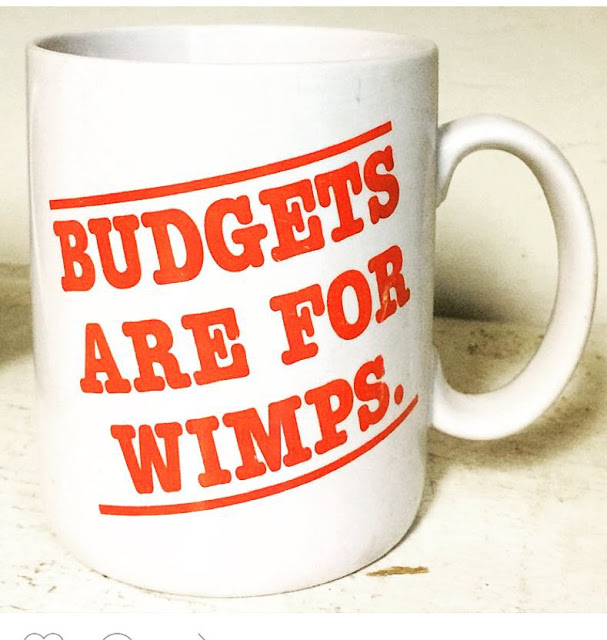 Gathered: You recently made the decision to cut down your center island and make use of a true dining table and chairs, instead of counter stools. What made you want to change things up?
LC: We are a young family and meal time is super important in our household. Since we made the decision to get rid of a formal dining room, we initially ate all of our meals at the bar around the kitchen island when the weather wasn't nice enough for us to eat outside on our porch. Trying to have dinner time conversation while eating at the island wasn't ideal. I am so happy with the decision to bring in a more traditional dining table because it has become a place where we spend a ton of time.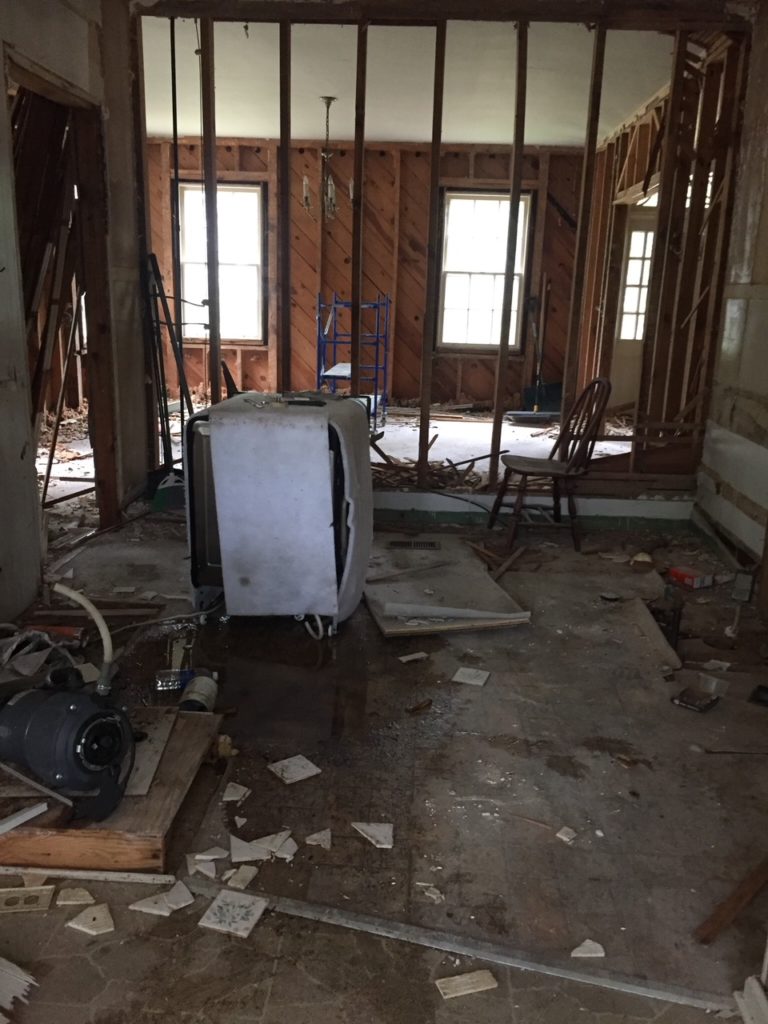 Gathered: So, the kitchen and dining space is now open to your main living area. Is this where you and your family spend most of your time?
LC: Yes, we live right here! Obviously we eat most of our meals around the table, but the kids also play cards, do art projects and we'll have family meetings here. Once we put the kids to bed, Grayson and I will sit down and have a glass of wine. It has a comfy, lounge-y feel. When my girlfriends are over, we end up hanging around the table. This table is just a really great gathering space for all occasions.
Gathered: As with the rest of your home, it seems like you chose design elements in the kitchen that were respectful of the home's traditional style and storied history. How did you incorporate more modern elements to balance your taste with the more classic look?
LC: The countertops were a big deal to me – I knew that I didn't want quartz or concrete  because it wasn't true to the period of the home's history. We opted for classic marble and polished brass hardware throughout the kitchen, materials commonly used in homes built in the 1920's. Living with marble is a whole different conversation, but I joke that you should take a personality test before having marble in your kitchen but for us it's been great.  I was also against using any recessed lighting because that simply didn't exist back when our house was built. I chose this trio of flush mounts plus the two statement pendants over the island. They are updated choices that still honor the traditional style of our house. I chose this powder blue Ann Sacks tile for the backsplash and decided against upper cabinets on this back wall so that we'd have a great view of the oak tree in our backyard. Throughout the kitchen, there are nods to my more modern style, like the lucite and brass mirror over the bar and art storage area.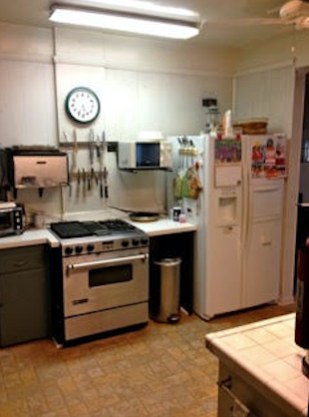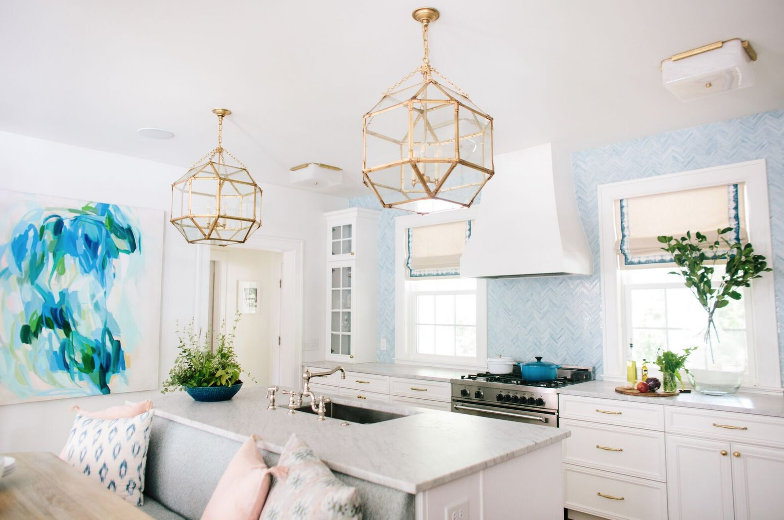 Gathered: How did you approach designing your storage in the kitchen? Any smart tricks that you could share?
LC: As I mentioned above, it was a priority not to have upper cabinets so we maximized our storage by using deep drawers and roll-out storage. For seasonal and special occasion items, you can roll back the banquette and we have additional storage in the island. The butler's pantry is located right off the kitchen and it's where our coffee bar and snack items are stashed. Our pantry staples like flour, sugar and chocolate chips are stored in clear glass jars with labels and are located in the butler's pantry as well.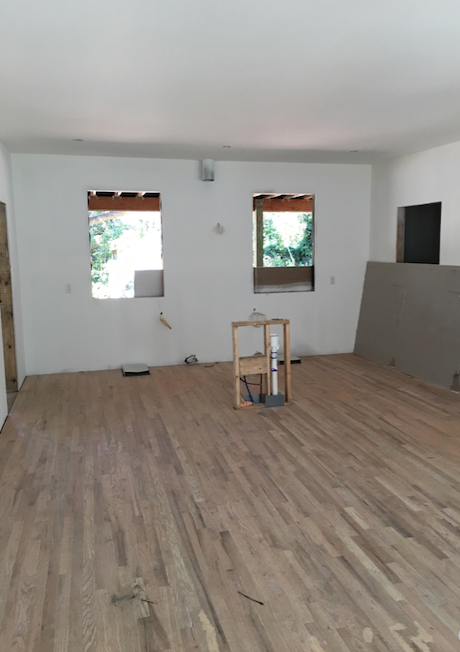 Gathered: What are some of your favorite meals to cook in this lovely space?
LC: I love to cook, but between being a mom to two young children plus running a full-time business, I rarely have time. We're so lucky to have an incredible local chef named Anja Bauman whip up several healthy, delicious meals for our family each week.  This gives me the opportunity to spend time with my children when I get home during the week and has been such a treat for all of us. The photo below is a sample of what Anja can prep for our family – she can adjust to any dietary restrictions and preferences. When I do find myself in the kitchen, Ina Garten's Mustard-Roasted Fish is one of my go-tos. So, so yummy!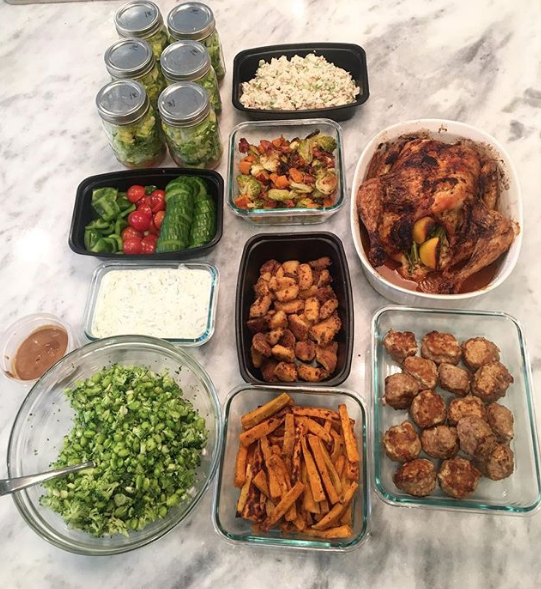 If you would like additional information on any of the items that Lindsey used in her home, please don't hesitate to ask. We'd be happy to assist you in placing an order with us.
Email: social@gatheredgroup.com
---
Gathered, a full-service design firm and curated boutique in Wilmington, NC, is the vision of principal designer Lindsey Cheek, whose ability to work seamlessly with contractors and builders, along with her fresh take on coastal-inspired home decor, has made her one of the Southeast's most sought-after interior designers. Her work has been featured in magazines such as Southern Living, HGTV, and Martha Stewart. Learn More >>