Before + After: #projectcheekwood Entry + Living Room
We're thrilled to share an inside peek into the before and after process of  #projectcheekwood, Lindsey's own home, which is currently featured in the new issue of Southern Living. The 1928 home had great bones but needed TONS of work. Lindsey and her husband Grayson worked closely with the architect and builder to create a home that would be perfect for their young family. For the next several weeks, we'll feature a Q&A with Lindsey on the blog and get her personal take on each room in the house. Today, we're going to focus on the entry hall and living room.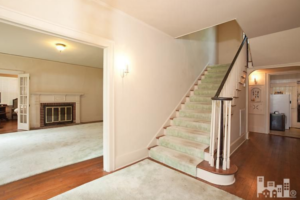 Gathered: Describe the entry way before. What were your goals in this new entry?
Lindsey Cheek: The home was a traditional "four square" meaning that there was a center staircase that divided the four main rooms on each floor. We knew that we wanted our master bedroom on the first floor with plenty of closet space and that we wanted the living room and kitchen area to be an open area.
Gathered: The wall where the console is used to be the entrance to the formal living room, right? What prompted you to make that change?
LC:  We took what was living room/sun room area and turned that space into our master suite and then turned the dining room into the new living room so that it would open with the living room. At the time, I felt a little guilty by taking up so much square footage for our bedroom but I'm so happy that we made that change in the floor plan.
I love how open and inviting the entry is –  our kids ride scooters back and forth on rainy days so they love it too!
Gathered: Wow, the living room is a pretty dramatic change! It used to be the formal dining room, right? So how did you achieve the drastic "after" in the living room without changing the footprint of the room?
LC: As much as I love the look of dining rooms, our family just doesn't entertain that way very often so we knew that getting rid of it would be OK. There was a smaller cased opening before and we raised the height and made it wider to maximize the space and have more flexibility for furniture. Once we did that, the room felt so much bigger. The room isn't huge but we have had parties with a dozen or so people and it's comfortable for a big group.
Gathered: The angle of this before photo (above) has you standing in what is now the kitchen (which we will feature here next week!) and looking towards what is now the living room. Tell us why you decided to go for an open floor plan in a very traditional home.
LC: We spend a ton of time in the kitchen, whether it's making meals or doing art projects with the kids. The square footage of these two rooms alone are not particularly large so by taking down the wall that divided them made the most sense, both for our day to day activities and for maximizing the square footage that we had.
Gathered: Speaking of your traditional home, it seems like you updated the house but still respecting this grande dame's historical nature. How did you strike that balance in the entry and living room?
LC: To honor the heritage of our house, I mixed vintage finds like the rug and lamps in the entry hall with elements that align with my modern taste. I also chose more traditional lines, like the curved sofa in the living room, in combination with contemporary fabrics. We kept the finishes on all of the lighting brass, as that was what was used during the time that our home was built.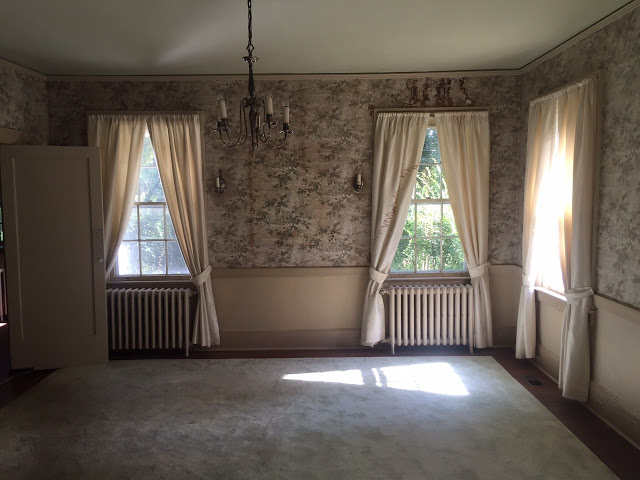 Gathered: With two young children and a dog, how did you decide on durable design elements in the living room?
LC: We are a real-life family and I certainly expect for spills and accidents to happen. I prepared for that by choosing performance fabrics in the living room – all fabrics are Sunbrella or stain resistant. Our stone coffee table is super durable. Although not encouraged, kids can jump off of it! We covered the walls in a commercial grade vinyl grasscloth that is wipeable. Even though it may not look like it, everything in here is pretty kid and dog-proof!
---
Sources
Paint: Benjamin Moore White Heron
Accessories: Gathered
---
Gathered, a full-service design firm and curated boutique in Wilmington, NC, is the vision of principal designer Lindsey Cheek, whose ability to work seamlessly with contractors and builders, along with her fresh take on coastal-inspired home decor, has made her one of the Southeast's most sought-after interior designers. Her work has been featured in magazines such as Southern Living, HGTV, and Martha Stewart. Learn More >>