If you read our blog, subscribe to our newsletter or browse our social media, then you've seen Madison's work as our Media and Marketing Coordinator. Her professional background is varied and includes stints at a magazine, a tech start up and a luxury vacation rental company, where she utilized her writing skills and love for connecting people and brands. Madison's approach to design is rooted in classic style but with a fun punch of color and personality. Read on to learn more about her top picks.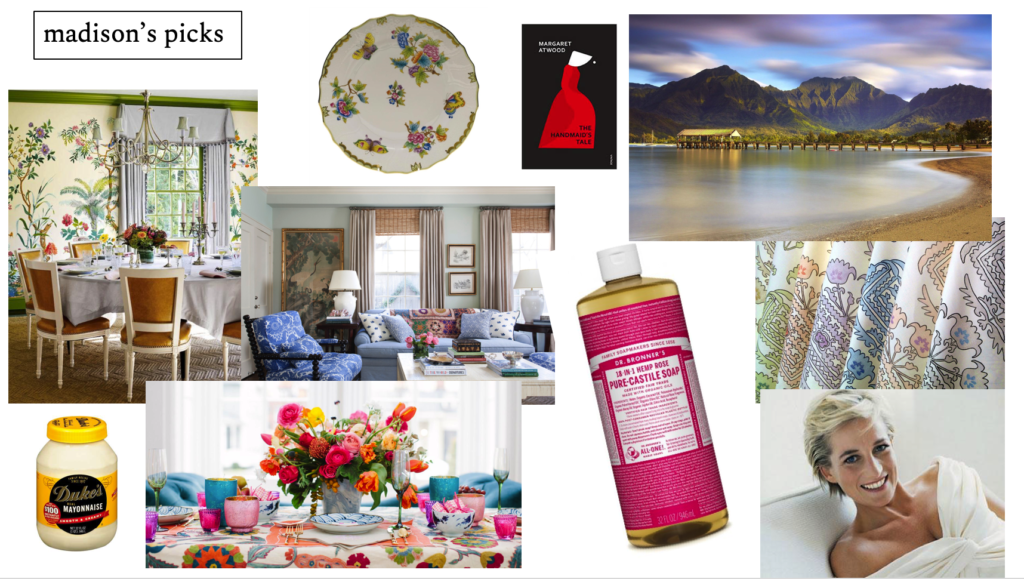 Tell us three words to describe your style.
Happy, neo-traditional, cozy
Favorite Travel Destination?
Top 3 dinner party guests?
Princess Diana, Dolly Parton and Oprah. I'd serve Jackson's fried chicken on my grandmother's Herend china.
What do you always stock in your refrigerator?
Duke's mayonnaise, wine and beer, Honeycrisp apples, pickles
Favorite designers?
Meredith Ellis, Bailey McCarthy, Jamie Meares
Coffee or tea?
Coffee in the morning, green tea in the afternoon
Go-to date night spot in Wilmington?
Last great book you read?
The Handmaid's Tale by Margaret Atwood
Favorite fabric?
Clementine by Quadrille (how can I not love a fabric with the same name as my daughter?)
Name three things you can't live without, excluding faith, family and friends.
1: My Marpac Dohm sleep machine – I recently found out that their headquarters are right here in Wilmington!
2: Dr. Bronner's Pure-Castile soap
3: A reusable water bottle – love my S'well one.